Talks, Workshops, Consultancy, Performances
Philip produces and offers a range of talks, workshops and performances that can be bespoke on request. He also consults to many clients in fashion, art, design and social media.
Please find more details below on what Philip offers and quotes from people he has worked with at the bottom. For further discussions or bookings contact askphil@philsays.com
—
Talks: Philip's talks have been much in demand at places including The Tate Modern, The University of Arts London, Central Saint Martins campus and the BBC Worldwide Creative summit. The talks have focused around his story of becoming an artist, about modern day Live and Performance Art, and how this art form has evolved to adapt to a generation desensitised to the standard gallery show.

 —
Workshops: Philip puts on workshops for numerous companies and education establishments including the Tate Collectives. The 'Inspiring Head' workshops comprise of a short talk about his work and how he aims to inspire people to turn what could be perceived as a negative aspect of their life, into a positive through a creative action. From that the people or children get in pairs or groups, wear bald caps and practice designing on their heads in the same way Philip would when developing his own ideas. Actual head busts can also be used to practice on. See recent images below  of a workshop with 15-25 year olds and a quote from the Tate Modern at the bottom of the page.

 —
Performances: Philip's performances have primarily comprised displaying himself on a plinth and interacting with audience members who enter the room/space. He has performed at places including The Victoria and Albert Museum, The Roundhouse, Somerset House as well as on the street publicly. Philip has also performed abroad in numerous countries including Helsinki, Finland at The Helsinki City Art Museum and Tallinn, Estonia at Kumu, Art Museum of Estonia.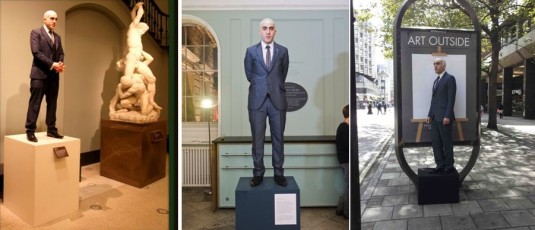 —
Consultancy: Philip has provided consultation for many clients in the areas of fashion, art, design and social media. Some of these clients have included We Are Social, The Embassy of the Kingdom of the Netherlands, London, and Ada Zanditon. This consultation centres on the creative and cultural sector, sponsorship and project management. Philip is available to discuss further on how you could add value to your company.
 —
Quotes about the talks, performances and workshops:
'Philip came to speak at the BBC Worldwide Creative Summit in Bethnal Green. He was briefed to speak about being a 'Problem Maker', identifying a new creative route and extending it to brand partnerships, and embracing the 'What If?' approach. This was preluded by a performance piece at the start of the event. Both were really well received, and Philip was utterly engaged with the purpose of the event from the outset – this resulted in a brilliant presentation and really positive feedback from all attendees.'
Charlie Henniker, Lead Creative, Content Marketing and Creative, BBC Worldwide
"Philip delivered a fun and interactive workshop for 15-25 year olds at Tate Modern as part of our Tate Lab series. Tate Labs are a series of regular workshops held on the first Saturday of every month with a focus on experimentation with materials. Participants had a great time creating artworks on their heads using various materials stuck onto bald caps. Philip's enthusiasm and hands-on approach encouraged the participants to really enjoy their day."
Young People's Programmes, Tate Modern 
"But given the jaded aesthetic responses and sensory overload experienced by so many of our fellow-citizens, is it possible to use the culture of spectacle and immersive experience to take us outside our familiar comfort zones? Can we devise (and test) experiences so unexpected and unpredictable that they provoke a genuine letting-go of assumptions and inhibitions – and thus engineer a kind of unpacking, or awakening?" MA Applied Imagination in the Creative Industries, Central Saint Martins, "Vertigo" Project Brief.
"Philip both in his work and talk provided a portal in understanding just this type of experience that was both engaging and thought provoking."
Richard Reynolds, Senior Lecturer, Central Saint Martins, University of the Arts London
'Philip came to speak as part of our Material Insights series for East Wing X, where he also displayed and performed previously, discussing the importance of audience interaction in his work. It was a a fascinating evening that inspired lively debates amongst the audience.'
Jane Scarth, Head of Learning and Engagement, East Wing X, The Courtauld Institute of Art